Excuse my language. This is 2014 and kicking ass is an acceptable way to describe something or someone. In this case, some brands kick ass in social media. What does that mean? It means they understand how to engage their followers, how to attract new followers, how to be creative utilizing social media, how to retain their supporters and how to, basically, make social media an extremely high (if not, their highest) return on investment.
Every year you might see new brands pop up as winners in social media. Other times, you see an old brand come out of nowhere and kick ass in the social media sphere on one platform (for instance, Google+.) And, still, there are just those brands that can dominate the Internet to the point that you don't even know how they do it.
Let's take a look at these eight brands kicking ass in social media...I'd highly recommend you follow them if you are looking for some inspiration to create your own kick ass brand.
1. Samsung – We know that Samsung has been in high demand from a technology and hardware standpoint. Their Galaxy smartphone is one of the top rated and best selling smartphones in existence. Their social media was seen everywhere, offering engaging content and resulting in them gaining over 14 million Facebook fans, 4 million Twitter followers and an 86 million YouTube views….in ONE YEAR.
2. Nike – Nike has always tried to create a personal connection with its customers through magazine and television ads. When they introduced their Nike Factory Stores, people flocked because of the experience. Bring in social media and Nike knows how to extend their customer connection to the Internet. In 2013, they used the hashtag #makeitcount to motivate young athletes. This is inspiring in and of itself and with the star power of their endorsers and athletic supporters, Nike has the ability to reach an incredible number of tuned-in people.
3. Netflix – Netflix uses social media as a primary customer service outlet. They are also not robots, but rather incorporate personality and humor when speaking to their customers. There was an incident last year with a Twitter user who had an issue with a movie he rented. Instead of acting on script, the Netflix social media employee made some humor out of it, thus creating a viral joke around the 'net. Netflix did not scold him as they believe in the power of service and doing whatever it takes to make a customer satisfied.
4. Disney – When I think of Disney, I think that if this company didn't have a great social media presence, they are doing something completely wrong. With their market being both parents of young children, and young children, you are going to bring them together like peas and carrots. Kids these days know more about how to navigate the Internet and social media than they do know how to navigate a playground. It's like bringing a world to them that they don't have in their homes. The opportunity to see more into the movies, television shows and theme parks is an incredible dream for children and parents alike. A coupon here, a discount there, and an opportunity to win something will always keep people coming back for more.
5. Ford – Ford has been a frontrunner in social media since the beginning. They knew what they were getting into and have only really expanded upon this. Ford uses their history and leverages the fact that there are so many car lovers out there to keep their followers engaged. Photos, videos, information about their cars, history about the company and the car / truck itself, stories about people and their old Mustangs…I mean, there's no end to it. And, to compare them, they are twice as big on social media as General Motors. That just goes to show you how important their customers and supporters are to them.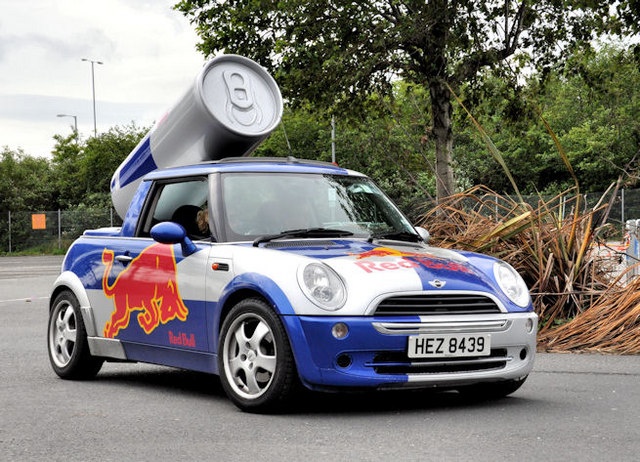 6. Red Bull – Red Bull has evolved in many ways. Although a drink, it is also a large supporter of extreme sports. The company's Facebook page is always thrilling and exciting for its followers – just like anyone who is also into extreme sports would be. They use their moniker of "Red Bull gives you wings" as a character for their social media posts. Red Bull gives you energy? Their social media pages can give you energy too.
7. Allstate Insurance – What makes Allstate a social media ass kicker is their creation of Mayhem and use of integrating offline marketing tactics with online marketing strategies. Mayhem is not just a person on television, or an act that happens to us, but it has its own Facebook page showing the history of Mayhem throughout time. So clever. So engaging.
8. Urban Outfitters – Can a trendy clothing store really have that many followers on Facebook, Twitter and Instagram? Sure, they can. With the power of social media, you can do almost anything. In 2013, Urban Outfitters partnered with the sneaker giant, Converse and launched a "Day in the Life of Your Sneakers" campaign. Using the video social media platform, Vine, UO and Converse were able to reach thousands of young adults by offering the chance to win sneakers, gift cards and a trip to New York. This also shows you the power of partnerships.
What is your favorite brand on social media?